Available in hinged and sliding operations, CWS sunroom patio doors create the perfect entrance to your sunroom while providing excellent performance against the elements. Hinged sunroom doors swing outwards for enhanced leak protection. Sliding sunroom doors offer multiple panels that glide along a track. Choose from a number of design options including glass, acrylic and soft-vinyl glazing to suit your project.
Also known as: porch doors, 3 season room doors, solarium doors, lanai porch door, cabana doors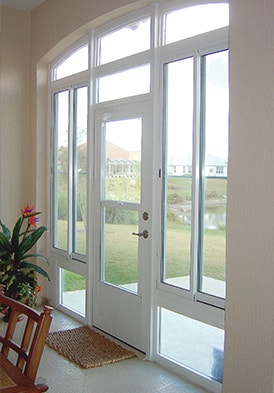 Sunroom Patio Door Benefits
Large panels designed to provide unobstructed views and more natural light.
Expand your living space and let in fresh air with hinged and sliding patio doors.
Multiple glazing types and finishes to complement your performance need and style.
Available Sunroom Patio Door Products
Explore sunroom patio doors.